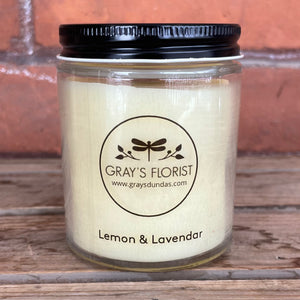 Green Ash Decor Candle
6oz Candle Jar made locally in Dundas! 
Canadian beeswax blended with coconut wax makes the perfect, clean, and slow-burning candle (approx 40 hours). 

Hand-crafted Wooden Wicks are made from fruit trees sourced in North America from FSC-Certified Mills.  

100% Essential Oil Blend of lemon & lavender.
Lemon is a rejuvenating, clean-smelling essential oil that is commonly used to enhance concentration and energy. It has a calming effect that can subdue negative moods such as anxiety.
Lavender is known as a mild sedative and is reputed to reduce stress by relaxing the brain waves.  Lavender supports the immune system by helping relieve feelings of stress that can weaken health. It is believed to help balance hormones, to reduce feelings of nervous tension, and based on empirical evidence, has worked to reduce feelings of depression for some individuals. Due to its calming and relaxing properties, it can work as a sleep aid for those suffering from insomnia.
---
We Also Recommend